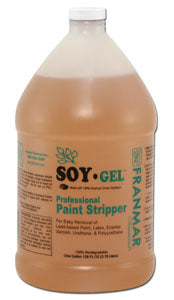 SOYGel Paint Stripper
$9000

$90.00
Tax included.
---
---
Want a better way to remove paints, urethanes, acrylics, epoxies, and enamels without the back-breaking work of sanding and chiseling? Made with 100% American Grown Soybeans, SOY Gel does all that and more.
Throw out the sand paper and put away the knee pads. Just put some SOYGel on the coating to be removed, allowing you to work on another project. Let SOYGel do the work, not you!
Within minutes you can see the power of SOYGel start to lift the coatings, all while you spend time on other tasks. Not sure how many coats need to be removed? SOYGel doesn't care. One coat, five coats, twenty coats, SOYGel will remove them all and leave you smiling. 
With SOYGel you won't have to deal with harsh odours that we all know so well with other strippers. No odor SOYGel is the perfect helper for anyone wanting to remove paints, urethanes, and enamels.
Easily Remove MULTIPLE LAYERS of
Paints and Lead-based paints
Urethanes and Polyurethanes
Concrete Acrylics and Sealers
Epoxies - single and two part
Sold by the litre and allow coverage of 5 square metres per 1 litre of SOYGel.