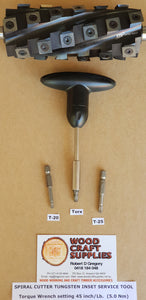 Tension Wrench - Installation Tool
$5200

$52.00
Tax included.
---
---
Servicing Spiral Cutters on woodworking planers, thicknessers and combinations has become NOT an urgent activity, as the tungsten inserts are so resilient and hold their edges dramatically longer than the original high speed steel straight knives.
When it has been decided to rotate the inserts 90 degrees to the next available sharp edge, it is recommended to air-dust the cutter block and even spray a lubricant (CRC, Inox, Lanolin) onto the screws to aid loosening.
Always use the Apex Style tool, provided with the spiral cutter to loosen each screw, as the tension wrench does not work anti-clockwise and could be damaged. 
Rotate each insert to a new edge, bed it into the seat and alignment rail and spin the screw down to a firm tightness. We recommend doing this over a full row of cutters, then utilise the tension wrench to complete the tensioning of the complete row. 
The Tension Wrench is set at 45"/lb. (5.0 Nm) which is the correct torque for the high tensile screw and the brittle tungsten cutter so, the "click" release ensures correct tension on the assembly.
The Tension wrench is supplied with Apex Bits for "Shelix" and CTS-Sheartek" tension screws and is invaluable for the correct tensioning of spiral cutter tungsten inserts.